Please use this page as a resource for information before a storm.
But for Emergency Information during and after a storm please look to
Lee County EOC and The Captiva Fire Department
​

​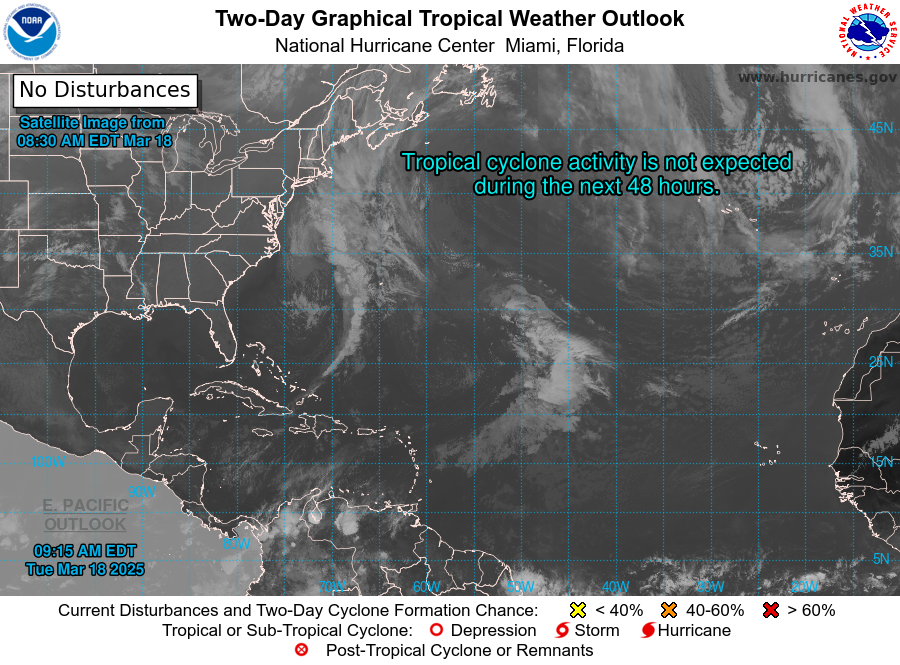 Information Provided by NHC/NOAA
The Saffir-Simpson Hurricane Scale Chart
NHC - Atlantic Tropical Outlook NWS Forecast Captiva/Sanibel
​
We will be providing online storm updates via facebook. Even if you don't use facebook this information should display seamlessly just below. Just use the slider on the right of the frame to scroll through all of the information. Please check in regularly for the most current information. We also encourage you to like us on facebook.
​
Download Your Tracking Chart
​
We encourage you to verify your plans for the 2018 hurricane season now!
While we all hope for good weather this season, we want to encourage you to plan for preparations for a storm and the potential evacuation that would be possible in the case of a severe storm.
1. Please Read the 2018 Home Owner's Letter
2. Register anyone you would like authorized to check your house after an evacuation with the Resident Sheriff Deputies on Captiva by sending a signed letter to the attention of: Captiva Resident Sheriff Deputies c/o Captiva Fire Control District, P.O. Box 477, Captiva, FL 33924. Send a copy to the people who you are authorizing to enter your property. Captiva Home Owners Authorization Letter available here - PDF (opens new window) .doc (downloads)
3. Get a hurricane pass. In the City of Sanibel's continuing efforts to reduce costs, the City is going to keep the 2016 series pass active. People who have been issued a 2016 pass should keep their pass for use in 2017. Applications for new passes are available at the Sanibel Police Department or from the City of Sanibel's Emergency Management Webpage
The valid passes for the 2018 hurricane season are shown below with their brochures. ***Note the 2016 in the middle of each pass.
​
Residential Business




4. Complete a Family Hurricane Plan - A form developed by the Lee County Emergency Operations Center. Make Your Own Family Hurricane Plan With This Editable Template From Lee County Emergency Management
​

Download It Here
Adobe Acrobat Required


5. Read and Familiarize yourself with the All Hazards Guide
6. If you rent through an agency, check their plans for informing and evacuating renters. If you rent your property yourself, we recommend you inform your renters to follow the directions below during a storm.


7. Everyone here during hurricane season should do the following!


8. Sign up to receive our storm alert emails. Then in the event of a pending storm that could affect SW Florida and Captiva, you will receive regular emails with all the details you need to know about where the storm is heading and any measures that local emergency services are taking. These emails will be sent out as necessary to keep you up to date on the storms progress and when combined with the website, will be your best resource for how the storm is affecting the island and what you need to do!
​
"Preventing the loss of life and minimizing the damage to property from hurricanes are responsibilities that are shared by all." - Joe M. Allbaugh, FEMA Director
The most important thing that you can do is to be informed and prepared. Disaster prevention includes both being prepared as well as reducing damages (mitigation).
Disaster Prevention should include:
Creating a Disaster Supply Kit
Having a Pet Plan & Pet Shelters
​
HomeAgain Pet Microchip and Pet ID
(Please take care of your pets in an Emergency - They depend on YOU!!)
More Preparedness Info Available From NOAA Here
​
LCEC ON LINE
Important Safety Information From LCEC
We Are Pleased To Announce That Captiva is
A Storm Ready Community!
​
Thank You To Everyone Who Is Working So Hard
To Help Prepare Our Islands For Any Future Storms!!
Including, but certainly not limited to:
The Countless Volunteers We Couldn't Do Without
Captiva Fire Department
Lee County Sheriff's Department
Lee County Emergency Operations Center
Captiva Civic Association
Captiva Community Panel
Captiva Property Owners Association
Please note: All information that I am getting is from other
sources ie: press releases, emails, phone calls, etc. I try to keep the
information as accurate as possible, but please bear in mind that
anything on this site is Subject to Change, Accuracy is NOT
Guaranteed and will be updated as frequently as possible.
Emergency Information during and after a storm please look to
Lee County EOC and The Captiva Fire Department